14 Most Amazing Ocho Rios Tours In Jamaica 2023!
There is a myriad of adventurous Ocho Rios tours and excursions to embark on when visiting the northern shores of Jamaica!
Traveling the island for six weeks I tested quite a few of the Ocho Rios tours available, and here is a round-up of the best day trip excursions you can do around this charming coastal town.
I visited Jamaica in April 2022, post-pandemic (at least on the run-up side), so I would say the information here is pretty up-to-date on the destination!
Any link in this article may be an affiliate link! If you click through the affiliate link to do your shopping or booking, it may provide a small commission for me! As an Amazon affiliate, I earn from qualifying purchases.
Easy Booking Of Your Ocho Rios Tours!
Several of the attractions on the northern shores of Jamaica, including the Blue Mountains, are accessible from Ocho Rios as distances in Jamaica are short. Jamaica is a small island!
Tour operators in Ocho Rios will come to pick you up at your hotel or other accommodation, bring you to your Ocho Rios tour, and pretty much walk you through the whole thing.
I used Viator for my whole six weeks journey in Jamaica, from the start in Kingston. As they delivered like a breeze, were on the dot on time, and have great guides, I continued with that.
Viator has lots of multi-activity day trips you can book online, both in Ocho Rios, but also around the nearby destinations of Montego Bay, Negril, and the Blue Mountains! Entrance fees are included in most organized tours.
Adventures Ocho Rios Tours For Your List!
If you are a traveler that is not up for spending all of your holidays on a sunbed and instead likes to make your holiday an adventure and experience of a lifetime, out and about, Ocho Rios will be a perfect destination for you.
But going on your personal adventures is not always possible, especially when there are eco preservation and nature reserves that need protection from the hoards of explorers, like in Ocho Rios.
This is why you need to book your adventures with a company or local guide in Ocho Rios. Here are 14 of the most amazing adventures you can embark on!
One of the many tours of the natural top attractions in and around Ocho Rios, Jamaica, is Blue Hole Ocho Rios tour.
The Ocho Rios Blue Hole in Jamaica is a beautiful river dam in (one of) the Ocho Rios rivers where you get to jump off a ramp, into the swirling waters below the waterfall!
Then you walk a little along the river bank to a place of natural beauty where you can swing yourself jungle-style like Tarzan (or Jane) off the little waterfall and into the rapids of the river below (with a bit of help).
Do you keep thinking you should have had a GoPro? Going on adventures in Jamaica could be a perfect opportunity to get one!
The water in the Blue Hole in the Ocho Rio river is even said to have a high concentration of minerals, and be very healthy for you!
Also read: 13+ Amazing Kingston Tours And Attractions 2022!
Tours Are Organized From Door To Door!
Your adventures can all be documented by a park photographer if you want to take the proof home with you, as you see in the photo below where yours truly tried out some skills from a few years back.
When you book your Blue Hole Ocho Rios Tour, you will be picked up at your hotel or selected hotels and pick-up locations by your tour operator.
This means that you might have to find your own transport from your hotel to the pick-up point, dependent on where you are staying in Ocho Rios.
I got a taxi from my holiday home to the pick-up point, which was not hard at all.
From there, you will be all set with tickets and no lines for entry into the park (because it is like an amusement park), and the drivers and guides will take care of you.
Make sure to bring water shoes if you have them, and a waterproof bag or pocket for your phone and valuables!
Also, several places in Jamaica still require you to wear a face mask in April 2022 when moving about (but you get to take it off while in the wet parts of your tour).
The Dunn's River Falls tour is a climb up a terraced, 180 meters mountain waterfall with lagoon pools, surrounded by the lush green forest of Jamaica.
Starting all the way down by the beach (you can arrive for the Dunns River Falls climb at the beach with a catamaran as part of a tour if you want to).
From there you make your way up all the little walls and creeks and waterfalls and pools amidst the lush green and sprinkling sun.
Although the waterfall is super regulated in order to conserve the gorgeous waterfalls, and it is a very touristy place, the climb is truly beautiful, and the pools are exquisite.
You will be climbing alongside a lot of other visitors, but don't let that scare you. I don't think it took away a lot of value from the experience.
With the sun peering through the trees as you make your way up the waterfall, in my opinion, the Dunns River Falls tour is definitely worth your while and money!
Then there are other dryer attractions in Ocho Rios Jamaica, like the zip line parks! The Chukka Zipline Tour at White River Valley outside Ocho Rios is just the place for this kind of airy adventure!
In this two-hour adventure tour from Ocho Rios, you will visit the Jamaican rainforest, and climb high up into the forest canopy to start your high-flying adventure.
The guides will help you all the way, make sure you are safe and secure and feel good as you are clipped onto the wires crisscrossing the rainforest.
In some places, you can even enjoy a stunning aerial view of the Caribbean from the journey through the canopies between the different high-sitting platforms.
All safety equipment and round-trip transportation from Ocho Rios hotels are included in the Chukka Zip Line Tour, so you can just book online and back a little bag for the day.
Also read: Vibing Jamaica Holidays 2022 | Ultimate Guide!
If you have a love for all things motorized, you can explore Ocho Rios tours aboard your own 4WD all-terrain vehicle on the Chukka ATV tours Ocho Rios.
You will be guided along off-road trails, visiting places like Richmond and Llandovery, which are former 17th-century sugar plantations.
Here you will have a break to explore and learn the history of the sugar plantations before the tour goes onto a natural pool for a cooling swim.
For the adventure-seeking traveler, you can even challenge yourself to do 10 meters (30 feet) leap down into the water!
The ATV tours depart several times a day, and security briefing, all equipment, and transport from most hotels are included in the tour fee.
Whether or not horseback riding is your "thing", going on a horseback riding tour on the beach in Jamaica is the next level!
A horseback ride tour on the beach from Ocho Rios can be done as a multi-destination tour where you have several activities in one day, or as a single tour where this is the only activity.
You will be picked up at your hotel and taken to the horseback riding beach (as it is not in the middle of the town), where experienced guides will help you with everything.
As there is water involved, you will be given a life belt, as well as a helmet, before you and your new friend go for a walk around in the nearby forest, which ends up swimming in the blue waves at the end of the tour.
I truly loved my horseback ride experience in April 2022, the horses were lovely, and swimming in the sea with a horse was kinda special. My only complaint about the beach part of the horseback riding tour is that I wish it had been longer!
From Ocho Rios, you can embark on a bamboo raft adventure down the White River.
The river rafting guides will safely guide you down the river on your little raft, while also making sure you are not dehydrated, a chilled beer will see to that!
Here you have all the time in the world right now, just allow the scenic views of the rainforest to register, and listen to the wildlife hidden high and low in the green surroundings.
You can also choose to combine the river rafting experience with a soothing limestone massage, to complete the zen of the day on the river!
A River tubing tour in Ocho Rios may seem like some super-adventure stuff, but it is actually more of a chill and slow experience. You have time to listen to the sounds of the jungle, admire the incredibly green surroundings, and really appreciate the nature around the river.
The guides were fun and knowledgeable, making sure everyone had a good time, telling stories and magically sending around a little surprise drink for the ride!
Another surprise was a sudden jungle shower as we were floating down the river, only proving that the swimwear tour outfit is not for no reason!
What is better when you find yourself on a Caribbean island than to take full advantage of the beautiful Caribbean Sea!
One truly Jamaica-vibe experience is an Ocho Rios cruise excursion, boarding a catamaran for the day, putting on your sunglasses and sunscreen, and finding your grooves in sync with the reggaeton music.
In Ocho Rios, you can embark on a variety of different catamaran day or sunset cruises, some with a party atmosphere, others perfect for adventure or romance.
A snorkeling kit will be available on the catamaran if you don't have your own, or you can just stay on the boat and dip your toes into the sea enjoying a refreshing drink!
You will also find multi-destination catamaran cruises in Ocho Rios, that will take you comfortably to a mix of some of the attractions mentioned in this article if you want to combine your sea day with a bit of adventure.
Be prepared for a Jamaican-style festive day cruise, as the reggae music is never turned down low in Jamaica, and the catamaran cruises are no exception.
The DJ will see to that, and the crew will make sure you have "riddem" in your bones when you return to shore!
To get up to Mystic Mountain in Ocho Rios, you take the Sky Explorer chairlift all the way from the sea up to around 700 ft (200 meters) altitude.
The chairlift moves quietly just above the jungle canopies, you are surrounded by branches from the jungle below and with a stunning view of the ocean to your left!
Once on top, you arrive at the Mystic Pavilion, the start point of all the activities you can do in the Mystic Mountain jungle.
The Mystic Mountain Pavillion
At the pavilion, you find a restaurant, little shops, and a refreshing and panoramic pool, where you can rest and recuperate in between activities.
Start with the bobsled Jamaica, which takes you on a ride of twists and turns around the Jungle vegetation.
The bobsled was designed specifically not to disturb the natural vegetation, which means you get up close and personal to the jungle life rushing through the rainforest!
Then test the Anancy's Web Rope Course, and challenge yourself to climb a 30 ft aerial maze of ropes and wood, before you can chill on the Ragga ride.
The Ragga Ride takes you in pairs in hanging chairs slowly up the mountain from the Pavilion. When you reach the top, you will be sent on an airy tour down the mountain assisted only by gravity.
The course takes you through 14 turns swinging out over the hanging cliffs, and in some places, you can break to a halt for photo-ops high above the sea and Ocho Rios Town!
You can visit Mystic Mountain by only buying the Sky Explorer ticket, which I did, and that was a bad idea as I had to pay for all the activities separately once on Mystic Mountain.
That was a lot more expensive than booking a tour. If you want to boldly explore the Mystic Mountain activities, I would say booking this excursion as a tour probably is the best option.
If your interests lie more on the tranquil side, and you have an inner botanist, Ocho Rios has several botanical gardens to show for it!
You can take a tour to visit Shaw Park Botanical Gardens and see exotic birds in a large walk-in aviary mesh bird house on 15 acres of tropical garden with lots of different indigenous plants and flowers.
While there, you can also get your feet wet in the calm river that runs through the heart of the Turtle River back into Ocho Rios town. Casually climb the waterfalls, and then explore the mini zoo at the Konoko Falls and Gardens!
This tour includes pick-up at most hotels (or the Ocho Rios Cruise port), and you will be returned to the same place. Also included are water and snacks, and the whole tour lasts for about three and a half hours.
Also read: 7 Fabulous Days In Grand Cayman Itinerary 2022!
11. Visit Margaritaville Ocho Rios
Right at the entrance to Ocho Rios, or a stone's throw away from the cruise port, you find the famous Margaritaville which is a place you easily could spend the day lounging!
The restaurant slash bar slash adventure park at Margaritaville opens at 10 am and keeps the pressure going until 3 am if you have the stamina.
You can have your lunch served on your VIP beach chair, go for a swim while waiting for your meal, or test the water trampolines to sharpen your appetite!
If you don't want to get your feet dry, there is a swim-up bar, a pool, and live entertainment, and into the night the party scene transforms into a nightclub. If you visit on a Saturday, be sure to bring your stilettos for ladies' night!
Whenever you need new energy or a drink, the waiters are never far away, make sure to test the shrimp tacos, delicious.
The area around Margaritaville is like a little village on the edge of town, with little shops with everything from watches to a new bikini if you need one. And a Starbucks, which will definitely wake you up in the morning!
12. The Town Beach In Ocho Rios Jamaica
The town beach in Ocho Rios, or Ocho Rios Bay Beach, functions like an amusement park, in the sense that it has opening hours and closing hours.
You have to pay to get in unless you are a guest at one of the hotels in the city center that has beach access.
Inside the Ocho Rios beach area, there are sunbeds available for rent, and also water activities like boats to take you for snorkeling tours or rubber-donut rides.
There are no restaurants or bars along the Ocho Rios beach, apart from a few that are connected to the hotels and are reserved for hotel guests only.
This means you need to bring a lunch basket or exit the beach area to get a bite if you are not a guest at a hotel with complimentary access to the beach.
Also read: FAQs About Traveling To Cuba In 2022 | All You Need To Know!
What really is the treasure of Ocho Rios is its surroundings in the parish of Saint Ann.
The whole parish is home to rainforests, rivers, and waterfalls, all sorts of fun, challenging, and beautiful nature experiences for an adventurous tourist in 2022.
The museum of the king of reggae Bob Marley in Kingston is not the only place you can learn about the life and legacy of this famous Rastafarian artist.
On this half-day excursion from Ocho Rios, you will visit Bob Marley's hometown, the village of Nine Mile where he was born and raised, with a guide.
After pickup at your hotel and a scenic drive through the Jamaican countryside, you get to experience the childhood home and final resting place of Bob Marley.
Underways, you will also learn about Rastafari spirituality and way of life!
On this tour, you will visit the Prospect Great House in Saint Mary Parishlearn and learn about Jamaican cuisine!
You will get a ride in an open-air carriage around the plantation, and then visit the Prospect Great House to find out how to prepare traditional dishes such as the famous Jamaican jerk chicken, callaloo, and coconut shrimp with a skilled chef.
This is a small-group tour, so you will get a lot of attention and help, and you'll have all your questions answered on your way to becoming a skilled Jamaican chef yourself!
Ocho Rios Tours From The Cruise Port
If you are arriving in Ocho Rios Jamaica on one of the many cruise ships that have a stop here, you will be docking right at the edge of the center of town.
If you have one day to spend, this overview of the different tours and excursions you can embark on in Ocho Rios will help you plan the perfect day with adventure and food!
Most Ocho Rios excursions have pick-ups at the cruise port, as many travelers arrive this way, and will return you to your ship at the end of your day.
From there, you can easily stroll on foot and explore the little town, be sure to read my restaurant recommendations further below!
Also read: 7 Perfect Itineraries For How To Spend A Day In Miami (Or 7 Days) 2022!
Ocho Rios Beaches Near The Cruise Port
As the cruise port in Ocho Rios is situated right on the edge of town, it is super close to the Ocho Rios bay beach.
You can easily walk from your cruise ship over to the beach, and remember, there is a fee to get in as the beach is fenced in and protected by security.
You also have the Mahogany beach which is almost in Ocho Rios, but from the cruise port, I would say it is a short taxi trip away over to the other side of town.
The closest beach to the cruise port though is Fisherman's beach, which is situated in connection to Margaritaville just across the ramp exiting your cruise ship. So finding a beach from the cruise port is the easiest thing to do in Ocho Rios!
Best Restaurants In Ocho Rios
After a day or days, of adventure, you have to eat! There are a variety of nice restaurants in Ocho Rios, and most of them are low-key, laid-back, and not really white-cloth places.
If you are not staying in an all-inclusive, here are some of my best options for eating in Ocho Rios.
Evita's!
The place that has among the best reviews, is the very place that I missed out on! I had planned for a last-night dinner at Evitas, a highly esteemed Italian place, a little walk up the hill from the town center, and with a stunning view.
And I did walk up that hill only to find that it was closed on Mondays! I still choose to mention it here, as I have faith in the numbers, and casually refer you to TripAdvisor's great reviews in the link for other people's opinions.
I am still upset I missed the Evita's.
Colorful Miss T!
A place I succeeded in finding, is a place called Miss T where I went for lunch. This is a colorful and very cool place hidden away in a small back alley from the main road of Ocho Rios.
Miss T really has a chill, Caribbean atmosphere, good service (although be prepared, things generally take a bit of time in Jamaica), and really really good food!
The honey garlic chicken is, without a doubt, the best I ever had. Highly recommended. As there is quite a bit of mosquito around here, Miss T actually has mosquito repellent for their guests as well!
Also read: Blue Mountain tours in Jamaica's largest mountain range
Relaxed John Crows Tavern!
If you fancy a pub supper one of your nights, John Crows Tavern in the main street is a nice place to go, but you probably should like to watch football with your dinner.
Or at least not dislike it! Or you can avoid it by sitting outside, the food is good and ambiance friendly.
Margaritaville!
The Margaritaville also has a great menu, even if you don't want to stay for the whole day! It is a cozy, although touristy place, and also within a guarded zone so it is very safe.
But they don't have coffee!? Luckily, Starbucks is only minutes away.
Sandcastles Jamaica Resort Restaurant!
At the Sandcastle Beach Resort Ocho Rios, there is a second-floor restaurant where you can come to eat even if you are not a guest (unlike some all-inclusive resorts, that only accept staying guests in their restaurants).
I went here without reservation one evening, with no problem, I got a table overlooking the quiet pool area in the back. The service was good, and the Jamaican chicken I had was also absolutely worth my while.
Best Hotels In Ocho Rios Town Jamaica
In Ocho Rios town, there are some hotels situated directly by the beach, where access to the beach is included in your stay (if not staying at a beach-including resort, you need to pay to get in.
Whenever you book a tour to go on adventures in the whole of this area, the tour operators will generally come to pick you up at your hotel (or cruise ship) and drop you off at the end of the day.
So your choice of adventure should not influence your choice or location of the hotel, the distances are generally very short.
The beach is like a small amusement park, with lifeguards on duty, opening hours, and entry fees. All very organized!
Also, the Ocho Rios Clock Tower and Ocho Rios Fort are local sights nearby, and other attractions include Reggae Xplosion Museum and Mystic Mountain.
Fun fact, I (a Scandinavian) am a walker, I do like to walk. And in Jamaica, no one walks! So I got quite a bit of attention walking the short distance from the city center to do my Mystic Mountain adventure, worried people wondering if I had a screw loose I think.
But all went well, you are at no great risk walking around in Ocho Rios in the daytime!
Sandcastle Beach Resort is situated on the western side of Ocho Rios beach. This is a studio and apartment hotel where you have great privacy yet nice amenities and good security, and a nice pool area that you can see in the photo above.

The gate to the beach is only seconds away, but the stay at Sandcastle does not include free access to the Ocho Rios town beach, which is regulated. So to enter the beach, you need to walk over to the guarded entrance (not very far).
Moon Palace Jamaica is an elegant all-inclusive option sitting right on the Ocho Rios town beach (with free beach access), near theme parks. Moon Palace has a nightclub, 2 swim-up bars, a beach bar, a gym, and a sauna!

Also sun loungers for leisurely days on the beach when you are done exploring for a day or two!
Also, you find great accommodation with Vrbo, Expedia, and Hostelworld in Ocho Rios Town as well as Montego Bay and Negril.
Luxury Hotels In Ocho Rios
If you prefer checking in to a hotel and having everything ready and set for you, most of the best hotels are situated outside of the Ocho Rios town center.
Along the coast between Ocho Rios and Montego Bay, a journey along the coastline that takes around one hour, there are plenty of high-end well-renowned hotels and resorts like Royalton and Iberostar.
Bahia Principe Luxury Runaway Bay is an all-inclusive adults-only resort that is conveniently situated a bit outside Ocho Rios towards Montego Bay.
The Bahia Principe boasts four poolside bars, a white sand beach, and a beach bar; visit the onsite spa for a facial, aromatherapy, or a sports massage, followed by dinner at any of the six onsite restaurants.
The gym has yoga and aerobic classes, or you can explore the sea world with snorkeling, windsurfing, and scuba diving
Over 80 % of TripAdvisor reviews rate this hotel as excellent or very good.
Pipers Cove Runaway Bay is an aparthotel sitting right on the beach and also right next to the gold course. The Pipers Cove has an outdoor pool, a restaurant, a bar/lounge, free self-parking, and free WiFi in public areas.
Each apartment even boasts a private pool and is equipped with free WiFi and a kitchen, flat-screen cable TV, fridge, and coffee maker.
With excellent reviews from former guests, the stunning views and location between Ocho Rios and Montego Bay make for an excellent starting point for any adventures you want to do in the area!
Other Places To Stay In Ocho Rios Jamaica
On Hostelworld you also find budget hotels (not just hostels and dorms) in Ocho Rios, and on Vrbo you find various accommodation options including private rentals.
In Ocho Rios, I stayed in two different areas in 2022.
One of them was an apartment in an area called Colombus Heights, which had a huge terrace and a breathtaking view! The other is down in the city close to Fishermans Point, with Margaritaville right next door just meters from the beach!
Both are great locations, good value for money, and both times I arrived at the same place that I saw beforehand in the photos (so no scam).
Booking an private rental in Ocho Rios can give you a PERFECT location to stay without paying the shirt off your back for the level of standard you get.
Is Ocho Rios Safe?
In Jamaican terms, Ocho Rios is a fairly safe town for tourists and travelers. As it has a small-town ambiance and chill atmosphere, the reggaeton-and-smoke vibes give a very friendly first impression.
But don't relax too much, even though this seemingly sleepy town seems benign, it is not immune to the crime problem that exists in Jamaica. Ocho Rios is not like Kingston, but still.
Outside the city center of Ocho Rios, there are areas where violent and to some extent, gang-related crime has been a problem for a long time.
Combined with the huge number of tourists visiting this little town, Ocho Rios is also a magnet for hustlers and traders living nearby.
Be prepared to be offered "smoke" and other merchandise anywhere and everywhere, and you might have to be firm to get your "no" across.
Taking normal precautions should be enough to stay safe. I traveled solo all over Jamaica, including Ocho Rios, and I never felt at risk. I also paid thorough attention to advice from locals and my hosts along the way.
Walk with friends, take a registered taxi over distances at night, and watch your number of cocktails, and your valuables (don't flash them). Then you should be fine and have a great time!
How To Get To Ocho Rios And Around
If your main destination in Jamaica is Ocho Rios or one of the places along the northern coastline, flying to Sangster International Airport in Montego Bay is a good idea.
Flying to Kingston, the Norman Manley International Airport is your destination. The airport is a 20-minute drive from the city center, out on the little peninsula shielding the city from the sea.
Booked Your Flight Yet? Compare Prices Here!
Knutsford Express will take you from everywhere to anywhere, pretty much; you can book your trip securely online on their website. And if there is a stretch you cannot find a bus, there are taxis.
Taking a taxi from Kingston to Ocho Rios will be around one hour and 15 minutes, and from Ocho Rios to Montego Bay is around one and a half hours by taxi.
The bus always takes a little longer due to stops.
When using taxis, make sure you take a registered taxi, not a pirate (pirates will try to hail you everywhere).
Registered taxis have red plates with white writing all over Jamaica. Taxis are more expensive in tourist areas, and FYI, most people prefer to be paid in US dollars, when paid in cash.
Distances In Jamaica Are Not Huge
Jamaica is undeniably the third largest island in the Greater Antilles and the Caribbean region, but it is still a small island!
This means that if you get up really early, you can visit any Jamaica destination from any Jamaica destination, really.
Also, a lot of the tours, especially on the northern coast, are "interconnected", you can book a Montego Bay tour from Ocho Rios and vice versa.
If you rent a car or book a long-haul taxi, the journeys are easily done fast. If you choose the Knutsford Express though, you depend on routes and stops, and it will take (a lot) longer.
How Far Is Montego Bay From Ocho Rios?
The distance from Montego Bay to Ocho Rios is around 62 miles, about one hour and forty minutes drive.
Montego Bay is located on the northern shore in the middle of Ocho Rios and Negril, which is on the western tip of Jamaica.
How Far Is Negril From Ocho Rios?
From Ocho Rios to Negril the distance is around 107 miles, and that would be just under three hours in a car. Still doable for a day trip, although a long one!
How Far Is Kingston From Ocho Rios?
The distance from Kingston to Ocho Rios directly is around 50 miles and an oval hour in a taxi. The Knutsford Express also takes you the shortest route between Kingston and Ocho Rios and will be almost the same!
How Far Is Kingston From Negril?
From Kingston, you can travel to Negril either along the southern coast of Jamaica or up north, via Ocho Rios and Montego Bay.
The distance between the two routes is practically identical, around 136 miles, and both will take just under four hours to drive.
The Knutsford Express on this distance, however, will do a tedious route with lots of stops, and really is not an option for a day trip, but a good budget option if you are going there to stay a few days.
Quick Facts About Ocho Rios Jamaica
Traveling to Ocho Rios after having visited Kingston, which I did, is a bit like arriving in The Shire with Frodo and the crew after returning from Mordor! (If the reference is lost on you, you have a wonderful trilogy to look forward to).
Ok, a little dramatic, but the contrast between busy, noisy, high-risk'ish Kingston, where I came from, and village-like quiet Ocho Rios just over an hour away is almost deafening.
Ocho Rios, or Eight Rivers, is a tiny port town on the northern shores of Jamaica just across the Blue Mountains from Kingston, a former fishing village gone all-in tourist destination.
There is a small town center in Ocho Rios, consisting mainly of gift shops, bars, restaurants, hotels, and marketplaces.
The city center is all located along the beach, which is a "closed" beach with entry points and security around it.
Ocho Rios has one main street, you can walk from one end of the town to the other in 20 minutes, and the vibe is super-chill, even in the center of the city. And there are so many fun attractions in Ocho Rios Jamaica!
Also read: The best things to do on your Kingston Jamaica holiday!
The town is so small, that you can actually walk around on foot without (most) people thinking you are crazy (Jamaican people don't walk, they drive, or take a taxi).
Still, you will be offered taxis, as well as smoke (as anywhere in Jamaica), food, tours, or any service, by people on the street suspecting you are a tourist.
This tiny port town has a huge cruise ship harbor and can welcome at least two large cruise ships at the same time.
The Nature In Ocho Rios Is Protected And Regulated
If you are from Europe, you will find that Jamaica operates its nature attractions very differently from Europeans.
You can not just stroll off into the forest or mountains and explore, at least not the interesting places. It is all very regulated, and there are guards, admission fees, opening hours, and closing hours.
The attractions in Ocho Rios Jamaica are mainly outside of the city center. The city center is of course where you find the city beach and access to water sports like snorkeling tours and catamaran cruises.
FAQs About Ocho Rios Tours
Apart from the actual tours, I can help you find in Ocho Rios, people seem to have quite a few questions about tours in Ocho Rios that don't specifically connect to what Ocho Rios tours there are, and how to find and book them!
Here is a collection of Q&A of the most common questions people have about Ocho Rios Tours in Jamaica!
How Far Is Ocho Rios From Kingston?
The distance from Kingston to Ocho Rios is 52 miles or 84 kilometers.
The drive from Kingston to Ocho Rios will take around one hour and fifteen minutes, or you can take the bus!
Can You Do Ocho Rios Excursions On Your Own?
Well, yes – you can. In the sense that you do not need to join an organized tour in order to go explore some of the amazing activities, you can find in Ocho Rios, Jamaica.
That said, mentioned activities are super organized in Jamaica, and even if you don't book a complete pick-me-up-at-home organized trip, you still need to enter a regulated area for most things.
Meaning, you will have to find transport to get there, pay a fee to get in, follow the guide to many places, that sort of thing.
Considering the total price you will pay, it might not differ a lot from booking the actual organized tour if that is of importance to you.
You still need to organize a taxi or find a bus or whatever to get where you want to go.
If you have a rental car during your Ocho Rios holiday, however, the need for transport organization goes away, and you also have more freedom to be flexible and maybe head for several different adventures or tours in one day!
So if you are comfortable driving on the left, want the freedom of your own transport, AND want to do the tours, you can show up to a lot of places and pay for the ticket in the entrance area – and go for it!
Speaking of which, you would need to rent a car then!
You can easily rent a car online to pick up anywhere in Jamaica, and with Discover Cars, you can opt to pick up your rental car in downtown Ocho Rios or even have it delivered to your house!
You can also book and pick up a rental car at Montego Bay Airport in Jamaica, which is conveniently located between Ocho Rios and Negril along the northern Jamaican coastline!
FYI, Discover Cars receive reviews all around on average 4.5 of 5 possible stars, so they have a lot of really happy customers, which should give you peace of mind about your booking!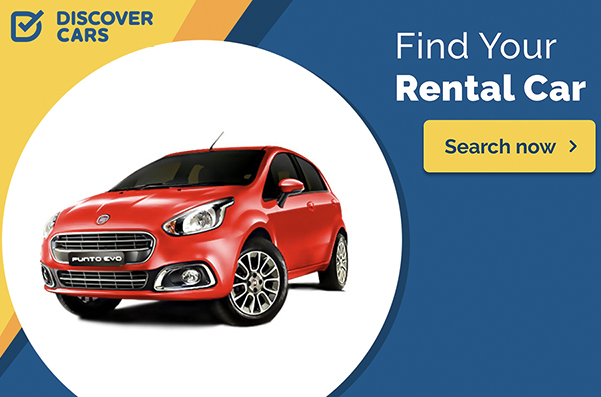 Wrap-Up Ocho Rios Tours
A lot of the tours and adventures you can embark on in Ocho Riso Jamaica are connected to nature, like beautiful waterfalls, beaches, and high-flying zip lines in the forest canopy.
The thing to be aware of about the northern shores of Jamaica is that the distances are not great! You can easily book a tour in Negril or Ocho Rios if you stay in Montego Bay even for a day trip.
Even the distance from the Blue Mountains or over to Kingston is doable in a day, with organized transport, bus, or taxi. Enjoy your Jamaica adventures!
Not Booked Your Flight Yet? Compare Prices Here!
Liked The Article? Pin It For Later!