If you are into traveling to Central and South America as your favorite destinations, learning Cuban Spanish will make any other Spanish accent incredibly easy to understand!
Before taking you through the best ways to learn Spanish, in Cuba, or outside, let me tell you WHY you should learn Spanish!
You may or may not know this, but there are more than 450 MILLION very good reasons to implement Spanish into your skill-set. Bucket-list-achievement?
Any link in this article may be an affiliate link! If you click through the affiliate link to do your shopping or booking, it may provide a small commission for me, at no extra cost to you, which makes me able to continue providing valuable information on this website!
450 million Spanish speakers in the world
There are over 450 million native speakers of Spanish on the planet, making it second only to Chinese in terms of the most spoken languages in the world.
English is JUST behind Spanish, with approximately 360 million native speakers. So there are more Spanish-speaking people in the world than English, spread out in 21 different countries.
In Europe Spain is the only country with Spanish as its official language, the rest are mostly in Central and South America. In the US as well there are currently more than 60 million native Spanish speakers.
For travel insights into Cuba check out this page with lots of valuable tips & tricks!
Learn Spanish In Cuba
There is absolutely no doubt that the best way to learn a language quickly is to be in the country where that language is spoken. Then you HAVE to get out there and practice.
If you want to learn Spanish in Cuba, there are two really great things about this country for learning Spanish. Very few people speak English, so you jump in on the deep end, just have to stutter through the phrases from the start.
And the other thing is that Cuban Spanish is really really hard! Cubans speak super fast, with a lot of slang, and a lot of consonants simply disappear in the conversations.
This means that after mastering Cuban Spanish, any other Spanish-speaking country in the world will be a piece of cake to make yourself understood!
If you want to learn Spanish in Havana, Jakera Spanish School & Hostel in Old Havana was my first learning place which I LOVED. I recommend it to anyone wanting to master the new language in a super nice environment with great teachers!
Also read: 33+ Legendary Things To Do In Havana 2022| The Ultimate Guide!
Spanish Classes Near Me?
It is more likely than not that someone is offering Spanish classes in your city or close to where you live. Spanish is a popular language, and teachers and courses are normally easily available.
Do an online search and check it out, whether you want to join a class with other people or you would prefer to be on your own in a private class with a teacher.
The advantage of taking a group class is of course that it is social. You can make friends with common interests like learning languages – or traveling to new and exciting places in the world!
If you take a private class, on the other hand, you will have the whole attention of the teacher and probably will learn a lot faster. And probably pay a little more, but maybe it is worth it?
Also read: Sensational 7 Days In Cuba Itinerary 2022!
Private Spanish Lessons Online
There are a lot of online Spanish classes and private Spanish lessons online available in 2021, where you can speak with a teacher directly via one of the many different video call options that exist.
The really good part of taking online classes is that you can choose a native-speaking teacher from a country or an area where they speak the kind of Spanish you want to learn. The accents and dialects of Spanish vary extensively, I can tell you.
I have used the Cuban online Cuban Spanish lessons via the Aprendez school when I am not in Spanish-speaking countries to maintain my hard-earned skills.
Duamel, Darbel, and Dayron in Aprendez will hold their classes directly from Havana using WhatsApp. They are nice, super skilled, and speak English so you can feel completely safe even if you don`t speak a word of Spanish starting out.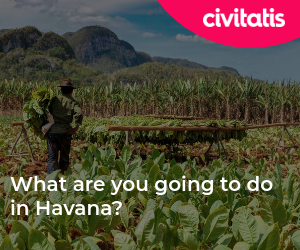 This may seem a little scary for some people, to get out there and start learning Spanish face-to-face from a digital person you don`t know.
But think about it; is it very different from taking a physical class with a teacher you have never met before?
In fact, starting your Spanish journey online is super safe, convenient, probably cheaper than a physical course – and people are normally all very nice – even on the internet!
In any case, make sure you choose an online school that has good reviews and a secure payment system you can trust!
If you already speak a bit of Spanish, you can also do online Spanish conversation classes just to have someone to practice with!
You can of course do your own research online to find a school that you prefer, but don't worry about the online thing – it is super easy, super-efficient, and fun! ,
Find A Native Spanish Speaking Online Friend
A super cheap and super efficient thing to do is to search for new native Spanish-speaking friends on social media whom you can video chat with.
You will certainly be able to find someone online that are willing and able to chat with you once or twice a week. Either just to help you get your Spanish going, or you can even do a language swap.
Is there a language you speak, that you can "trade" for Spanish with someone that wants to learn the language you already speak?
You do not need to be a teacher to do this, you just need to be able to communicate in a common language and help each other out.
And maybe get new friends in the process? Search for someone in a country or city you are planning on visiting, and maybe you even can meet up later?
Also read: What Is Cuba Known For? 22 Enticing Things You Want To Know!
Travel To A Spanish Speaking Country For Holidays Or School
What better motivation to keep working on your Spanish skills than planning and booking a holiday to a Spanish-speaking destination a while after you started your Spanish journey?
You can practice your skills in restaurants or doing different activities, or maybe even take Spanish classes while traveling (like I did traveling South America)!
This will really make you feel that the work is worthwhile, and you will improve quickly, which will give you the amazing feeling of communicating with someone in a new language for the first time.
Just wait and see!
The Best Spanish Apps
There are several good language apps out there that you can use to improve your skills. Although I think it will be a real challenge to really learn Spanish thoroughly using an app.
What I do think is it can be a great tool for when you are traveling and need specific phrases or words "on the go".
I am using Duolingo, which has been helpful a helpful tool among all the other things I do to improve my Spanish. Also, I have downloaded the Google Translator App that you can use offline with several languages which come in handy in some places in the world.
Keep your eyes on the prize – knowing languages and the ability to communicate are golden skills!
Also read: Where To Stay In Havana 2022 | The Best Hotels, Neighborhoods And Areas!
The Best Way To Learn Spanish
There may not exist one best way how to learn Spanish, but take it from someone who learned Spanish in her 40s, DIVERSITY is key.
If you want to speak Spanish well, you will be clever to take several approaches in the process. Unfortunately, you have to do the boring hard stuff, the grammar. You have to study it.
If you want to speak well, there is no way around learning and memorizing all the rules and exceptions that define the Spanish language.
This is the frustrating and boring part of learning a new language, that may have you feeling like an unintelligent idiot with severe learning issues regularly.
But like a wise person once said; "if it isn`t hard – it isn`t change".
The good news is; that when you have done the hard work, you will be able to convert all of it into sentences, and suddenly you are speaking! The reward is great, before you know it you are ordering your meals in Spanish!
Soon you can watch Spanish movies, listen to radio, podcasts, or lyrics to music. The exhilarating feeling of getting it is unprecedented, really.
Also Read: All You Need To Plan Your Cuba Vacation 2022!
Never Too Late To Learn A Second (Or Third, or…) Language
I started learning Spanish at 9 am on the 18th of March 2019 in Old Havana in Cuba. That was after traveling for 30 hours and sleeping only 2,5!
I was 45 years old at the time, about to start my first ever six-month solo travel to a new part of the world.
Now, two years later I am close to fluent, I communicate easily with anyone in my third language and I am LOVING it. The ability to communicate while traveling is INVALUABLE and worth all the sweat and tears and imagined lack of brain underway.
Because it is definitely not easy starting to learn a new system of sounds and systems to communicate when you are an adult. But impossible it is not, let us look at how to learn Spanish.
Wrap-Up Learning Spanish In Cuba!
I am aware that I am biased in the matter, but I LOVE Cuban Spanish, and I also objectively think it is a good version of Spanish to learn to master Spanish spoken in other countries throughout the world.
If you have the time, and/or the energy, opt for some Spanish classes during your Cuba holiday, or try the online version from the comfort of your home and wifi!
Secondly, as Spanish is such a huge language spoken worldwide, you are sure to find a private tutor or group Spanish class near you.
What I can say with some confidence, is that learning Spanish is not something you will regret spending time and energy on doing!
Best of luck – and enjoy the journey!
▶️ Check out the best travel deals & resources for booking here!
Do you have any questions about Cuba? Leave a comment, or send me an e-mail! Happy to help!