15+ Brilliant Cuba Tips For Travel You Need To Know (2023)!
Updated January 2023.
It is not like traveling to Cuba is brain surgery – BUT it can be very rewarding to research some Pro Cuba tips for travel when you are going to this particular destination for the first time.
Research of rules and regulations, visa, vaccines, cash, transport, and accommodation will help you avoid holiday troubles.
Planning and preparing will also improve your overall travel experience and make sure you get to have all the fun stuff!
Any link in this article might be an affiliate link! If you click it to do your booking, it will provide a small commission for me, at no extra cost to you! As an Amazon affiliate, I earn from qualifying purchases.
Cuba Tips For Travel Planning!
Cuba is a bucket list destination for many people, which I absolutely understand – and I agree!
You probably know about the revolution in 1959, Che Guevara and Fidel Castro, the US invasion in 1961, and the Cuban missile crisis in 1962.
Not to mention the blockade and the international sanctions that have been going on for almost 60 years.
The last decades of history as well as the current international and domestic situation will impact your stay even in 2023.
This is why planning before a trip to Cuba is so important, find out as much as you can beforehand to make sure everything goes smoothly and the holiday is all yours to enjoy.
Nb; if you are Canadian, you are not subject to the same regulations as US citizens, read about what is particular for Canadians here.
Also read: 10 Reasons To Spend Your Honeymoon In Cuba 2023!
Cuba Tips For Travel | How To Get A Visa For Cuba
Cuban authorities offer a variety of different visas to visit Cuba, including for business, students, health travelers, and journalists, to name a few.
The most common is the tourist visa – also called a Cuban tourist card.
Cuban Tourist Card (Tourist Visa)
A Cuban tourist card is not difficult to get. You buy a Cuban tourist card, you don't need to apply for one, as it is a formality.
As of 1st of November 2022, the Cuban authorities changed the rules for the Cuban tourist card.
Now you can stay in Cuba for 90 days on one tourist card, which you also can extend while in the country for another 90 days.
Also read: Cuban Tourist Card Rules | Cuba Extends Tourist Visa To 90 Days!
A Cuban tourist card, also called a tourist visa, can be purchased at the Cuban embassy in your country, from selected airlines, or from an online provider.
There are also several online visa providers where you can buy a Cuban tourist card online and have it directly sent to your home.
Easy Tourist Card will provide you with a Cuban tourist card that you buy and pay online and has a worldwide tracked delivery in 1-3 days.
Tourist Card From A Cuban Embassy
If you check out the website of the Cuban embassy in your country, you will find out how to buy a Cuban tourist card from them, and they will send it to you.
The price may vary between countries, for example, the Cuban Embassy of Norway charges $45 for a 90-day tourist visa.
Also read: How To Get A Tourist Card For Cuba 2022!
Cuban Tourist Card From Airline & Agent
You can normally buy a Cuban tourist card from your travel agent or at your airport of origin. The price may be higher, but it is convenient and requires no extra work beforehand.
Please check with your airport of origin or travel agent if that is an option for you.
If you fly American Airlines from Miami to Cuba, you will also be able to buy your tourist visa at the boarding counter super easily.
American Airlines has daily flights from Miami to Havana.
"Worst case scenario" if something goes wrong, it should be possible to buy a Cuban tourist card at the airport when you arrive.
I would not recommend that as your plan A, however, as there may be factors connected to your nationality or travel origin that may be of relevance.
I have never tested this myself, so I can not vouch for the efficiency of this option.
How To Fill In The Cuban Tourist Card
A tourist visa is normally valid for a 90-day stay and can be extended in Cuba for a total of 180 days.
You only have one entry on your visa, so if you travel out of and back into the country within the visa period, you will need to buy a new one.
You will receive the visa as a blank form, and you will need to fill in the details yourself before arriving at your Cuban destination airport.
If you need to stay longer or for a specific purpose, please read "other visas for Cuba" below to see what options are available for you.
How To Extend A Cuban Tourist Card
A Cuban tourist card can be extended at one of the many local offices of immigration in Cuba by showing up, and some selected hotels also offer the service.
The process of visa extension when in Cuba is a little peculiar.
You will need to go to a post office and buy $25 (625 CUP) worth of postal stamps (the price for a tourist visa extension) and bring them to the office of immigration. This is your form of payment when you go to get your visa extended.
In Havana, you find the office of immigration in the part of the city named Vedado on Calle (street) 19 between Calle J and K.
You also need to show:
The booking confirmation of where you are staying
Your travel insurance
Your passport
Possibly your covid 19 vaccine status
It will be sent straight home you your mailbox within days!
Cuban Tourist Card For US Citizens
There are some different rules that apply to US citizens, or anyone flying via a US airport.
The most important factors are that US citizens can not legally go to Cuba as tourists, and can instead choose between 11 authorized reasons for visiting Cuba (previously there were 12).
These are:
* Family visits
* Official business of the U.S. government, foreign governments, and certain intergovernmental organizations;
* Journalistic activity;
* Professional research and professional meetings;
* Educational activities;
* Religious activities;
* Public performances clinics, workshops, athletic and other competitions, and exhibitions;
* Support for the Cuban people;
* Humanitarian projects;
* Activities of private foundations or research or educational institutes;
* Exportation, importation, or transmission of information or informational materials; and
* Certain authorized export transactions.
The most common reason for a visit for American citizens is "support for the Cuban people".
Please go to your Ministry of Foreign Affairs web page for US travel advice to Cuba to check your options.
US citizens and travelers flying via US airports need a pink Cuban tourist card, not the standard green issue. If you fly from or via the US, make sure your Cuban tourist card is in the correct category.
From the spring of 2022, you can now do your health declaration for entry to Cuba online.
This only takes a few minutes and is ready instantly, but at some airports, you will have to show the approval at check-in in the form of a QR code sent to your email immediately after submission.
The best thing to do is to complete this form before check-in.
Also read: 18 Of The Unquestionably Best Beaches In Cuba 2022!
Travel To Cuba From The US
I have had issues traveling from the US to Cuba only one time, when I departed from Memphis, TN in May 2022, flying via Miami to Havana.
This resulted in me losing my flight, as the check-in guy used more than 30 minutes to verify that I was eligible to travel to Cuba, and by that time the check-in had closed.
If you are a US citizen departing from other airports than Miami, it is advisable to make sure you have a little extra time in case you encounter someone who is not familiar with the regulations.
Check airfares to Cuba with Skyscanner!
How To Get A Cuban Visa For Other Reasons
Other visas you can apply for to go to Cuba are:
Family visa. This is applicable if you want to visit family, friends, boyfriend/girlfriend, or spouse. You need to submit the name and address of the person you want to visit, but you do not need to have your accommodation at this address. This visa is valid for 90 days, and you can also apply for an extension for another 90 days – a total of 180 days. The Cuban Embassy in your country can help you with the application.
Journalist visa. This is issued for foreign journalists traveling to Cuba for work purposes. The journalist has to request authorization for this type of visa from the press office at the Cuban Embassy. Once authorized, they may apply for the visa at the Cuban consulate.
Business visa. This is issued to foreign nationals who want to travel to Cuba to conduct business. As with the Journalist Visa, the applicants have to get authorization for a Business visa from the commercial office at the Embassy of Cuba before applying for the visa itself at the consulate.
Cuba work visa. This is issued to foreign nationals who have a work contract with a Cuban company or organization, such as technicians and scientists.
Student visa. To be eligible for a student visa, you need to be enrolled in a learning institution that validates such a visa. Taking a short language course normally does not validate a student visa.
Cuba medical treatment visa. This is issued to foreigners who travel to Cuba for treatment in a Cuban medical institution.
Check Visa Regulation With Governmental Pages Online
For more in-depth information about visas to Cuba, you may get information at the Cuban Ministry of Foreign Affairs, or google your query.
Your home country's Ministry of Foreign Affairs will probably also have updated travel advice for Cuba on its official web page.
Again, if you are a US citizen, you can visit the web page of the US Ministry of Foreign Affairs for information, or google your query.
Below left is an example of an approved family visa valid for 90 days. This type of visa will be inserted into your passport.
Which Countries Do Not Need Visa For Cuba?
There are currently 18 countries whose citizens do not need a visa to visit Cuba.
Citizens of these countries can visit Cuba with only a passport but are subject to different rules and regulations for their visit. This includes the duration of the stay for the visa-free visit, which varies.
A minimum of $50 per person per day will be checked upon arrival in Cuba, for visitors of the nationalities listed below from visa-exempt countries:
EXEMPT FOR 90 DAYS WITHOUT A CUBAN VISA:
Bosnia and Herzegovina
Kenya
Malaysia
Montenegro
North Macedonia
Russia
Serbia
EXEMPT FOR 60 DAYS WITHOUT A CUBAN VISA:
Grenada
Saint Vincent and the Grenadines
EXEMPT FOR 30 DAYS WITHOUT A CUBAN VISA:
Antigua and Barbuda
Belarus
Mongolia
Saint Kitts and Nevis
Saint Lucia
Singapore
EXEMPT FOR 28 DAYS WITHOUT A CUBAN VISA:
UNDISCLOSED PERIOD OF TIME:
Cuba Tips For Travel Vaccinations & Health
Different countries or regions may have different requirements for vaccines and health advice for traveling to Cuba.
General Cuba tips for travel vaccinations you need should encompass vaccines for Hepatitis A and diphtheria/tetanus. For longer stays, you should also have the vaccine for typhoid fever.
Further vaccines to consider are measles-mumps-rubella (MMR), varicella (chickenpox), polio, and yearly flu shots. Hepatitis B vaccination is relevant if you may have new intimate relationships, are planning to get a tattoo or piercing, or have any medical procedures done.
Zika outbreaks have been reported in Cuba. For further information on recommendations regarding zika, please visit the CDC Zika Virus page.
Check with your national governmental travel advice at your country's Ministry of Foreign Affairs web page if anything, in particular, applies to you.
Normal pharmacy items may be hard to find in Cuba, and it is smart to bring a small travel pharmacy with common remedies you are likely to need.
For example, painkillers, stomach pills, mosquito repellent, and ointments you are likely to need on a holiday in the Caribbean.
Also read: 30 Brilliant Things To Do In Santiago De Cuba 2023!
Covid In Cuba Nobember 2022
In November 2022 there are very few cases of Covid 19 in Cuba. The country is completely open, and the mandatory face mask rule was removed in May.
Also, there are no requirements for a PCR test or valid vaccine certificate to enter Cuba at the end of 2022, but you need to fill out an online personal health declaration form before arrival.
If you feel ill while in Cuba and test positive for Covid 19, you will be required to isolate yourself at a governmentally approved facility.
For tourists, this will be a hotel where you get a private room and will be served all meals in isolation until you test negative on a new PCR test.
The cost of such events will be yours as a traveler, so make sure you have travel insurance that covers Covid 19 (see more below on travel insurance).
Cuban Climate And Weather
The Cuban climate pretty much has two seasons, a wet season and a dry season. The wet season is also referred to as the hurricane season.
Hurricane season officially runs for six months from June 1st to November 30th, but in June or July, the odds of a tropical storm are very low.
Normally hurricanes realistically only occur between mid-August and early October.
When there is a tropical storm coming, you will see the locals preparing; closing stores, and putting up protections on doors and windows.
If this happens when you are there, ask for advice from your hotel or host on what to do and what measures to take.
Temperatures are decent all year round, but in the summer months you may encounter "excruciating heat" 34-35 degrees Celcius or more combined with the Caribbean humidity.
During the months between October and March, the temperature spans from between (10)15 degrees Celcius to 30 degrees Celcius, the air can still be humid and the water temperature is more chilly.
Check out the world climate guide Climates For Travel for more information on Cuban weather.
Cuba Tips For Travel & Superior Cuba Packing List
There are a few important things that are smart to put on your Cuba packing list for your holiday that you need to know.
Cuba's temperatures and climate are one factor, it is hot and humid all year, but summertime ROCKS both.
Also, Cuba is still a rather closed society deprived of common commodities. There are a lot of things you will not be able to buy, not even in Havana.
Common pharmacy, hygiene, and cosmetic items are important examples of things that are hard to find.
Check out my extensive Cuba packing list with lots of tips and tricks for smart packing, and everything you need to know before sending your suitcase to Cuba!
You need valid travel insurance for Cuba for the duration of your stay, as you need it for all destinations.
In Cuba, you must make sure your travel insurance covers health issues and medical treatment should you need it. For 2023, your travel insurance must still cover Covid 19.
When you arrive in Cuba, you may be asked to provide documentation on your travel insurance. This has happened to me only once.
If you do not have one at this point, you will be required to register and buy a Cuban travel insurance package at the airport before you can get any further.
Currently, some travel insurance providers do not cover health issues connected to Covid 19.
Again, make sure the travel insurance you choose also covers Covid-19-related issues, as long as this is a requirement.
Medical Travel Insurance (IMG) scores 4.6 n Trustpilot, and offers 16 different travel insurance plans for different types of travelers, which also include Covid 19 coverage!
If something happens to you in Cuba, there are international hospitals that will take care of you until your eventual repatriation.
Bookmark the US Government list of hospitals in all major destinations in Cuba.
Arrival In Cuba
Remember to fill out your personal health form that you need to show along with the passport control in Cuba. From 2022, you can do that online on this page.
When arriving at your Cuban airport, you will be asked to display your passport, your visa for Cuba, and possibly a filled-out custom disclosure form that you will be provided with during your flight.
You might also be asked to show proof of travel insurance, which is mandatory to enter Cuba.
Be prepared to explain the nature and duration of your stay in the passport control. They might also ask you about your departure date, so be prepared to show your ticket out of the country as well.
The departure date should not exceed 90 days from your entry date if you travel on a tourist visa.
The efficiency of Cuban airport is variable, be prepared to wait for your luggage for 30 minutes up to a few hours.
Do not panic if it seems to take forever, things may go smoothly or take time. It is all normal.
Checked-in luggage may also be scanned when you exit the baggage claim area when you are leaving, so make sure you comply with the rules and regulations of what you are allowed to bring into Cuba.
Airport Code For Havana Cuba
José Martí International Airport in Havana, Cuba, is located about 20 kilometers (12 mi) from the heart of the city. it has been an essential hub for travelers both domestically and internationally in Cuba since its opening in the 1930s.
This airport serves as Cuba's main gateway to the world and is the largest airport in the country, handling over 5 million passengers annually (pre-pandemic).
With numerous airlines from various countries operating at this airport, it provides a vital transportation link to Cuba. The airport's IATA code is HAV, and the ICAO code is MUHA, respectively.
Getting Online In Cuba
It is a lot easier to go online in Cuba than just a few years ago, as coverage of wifi hotspots and wifi in hotels and casa particulares is expanding fast.
When you arrive in Cuba, however, you will be offline as your foreign phone will not connect to the 4G net, and you can not buy wifi scratch cards at the airports.
When you get to your casa or hotel, you might have wifi complimentary at your accommodation, or you might buy cards at your accommodation.
If not, you need to get yourself an Etecsa scratch card (€1 for 1 hour at the official price, more expensive in the street).
Then go to a wifi hotspot (hotel or park), open wifi on your phone, connect to Etecsa, and insert your username and password from the cars.
And you are online!
Be aware, that there are a lot of pages and services you will be excluded from when you are trying to enter from a Cuban server due to ongoing sanctions.
If it is important to you to enter all your social media, bank, or other services that might be banned, I recommend you get yourself a VPN service before your Cuba trip.
Cuba Tips For Travel & Transportation
In Cuba, there are several ways to travel within cities, and between cities and destinations.
There are bus companies, taxi options, train services, domestic flights, bike-, and car rentals.
Cuba Bus Services
There are several companies in Cuba offering bus services, but you would be wise to stay with the national intercity bus company Viazul.
This is because they are relatively reliable and have a relatively good standard bus park. You can also book the bus tickets online from home or from Cuba and pay securely online with your credit card.
When you have your online bus ticket, you will avoid long lines, bureaucracy, and paperwork that comes with buying your ticket at the bus station, and you are guaranteed a seat.
Just be at the bus station one hour before departure, and remember to bring your passport (and water and snacks)!
Transport From The Airport
As there are no airport express train or airport buses, your options are to find a taxi at the airport or to pre-arrange for someone to pick you up.
If you are traveling with a travel agency, you need to check if they are providing you with transport from your airport.
The Jose Marti International Airport is located just outside of Havana, a 30-ish minute taxi trip from the city center.
If you are arriving in Havana but going to other destinations, the Viazul bus company does have departures from Jose Marti Airport to other destinations. Viazul also operates from the airports at Varadero and Holguin.
There normally are plenty of taxi drivers available outside the arrival gate. The price to be taken to the door of your hotel/casa in Havana normally will be €25-30.
If you pre-book a pick-up at the airport from your casa particular, the price normally also will be €25-30.
Taxi in Cuba
There are several ways to go about taking a taxi in Cuba. In the cities, you can hail one on the street, but know that there are no meters or online payment.
Make sure you agree on the price of where you are going before getting in.
For short distances, like within Old Havana or city centers, you can also get a bicycle taxi, you find them roaming around or waiting in parks or street corners (500 CUP for around 5-6 blocks).
For long-haul taxis, you can do the same, but you can also book (and sometimes pay) online for these taxi trips.
Some online options are TaxinCuba and Taxi Drivers Cuba.
The Complicated Cuba Currency Situation
From January 2021, there were big changes in the Cuba currency system.
The Cuban government has changed the country's monetary system, abandoning the CUC; the Cuban convertible peso that has been the Cuban "answer" to the US dollar (currency value).
After January 2021, only the Moneda National, also called Cuban Peso or CUP, is valid in Cuba. The current Cuban currency to $US is 1:24 to the dollar, so $100 is about 2400 CUP.
Changing your money into CUP can only be done in Cuba. The Cuban currency is NOT traded internationally, it is illegal to take out of Cuba, and cannot be acquired from banks outside the country.
After a change of the law in June 2021, US $$ is no longer legal in Cuba, you can not change the US $$ in cash to Cuban pesos.
The US dollar still does have value on the black market, though.
You should bring a lot of cash to change into CUP in Cuba, mainly in Euro or Canadian dollars, which can be exchanged in exchange offices.
You can also change with local Cubans, and they will give you a better price than the official offices do. The price of euros in November 2022 is 1:120/150 euros to CUP.
There are ATMs (cajeros) easily available in Cuban cities, but you can only withdraw the Cuban Moneda Nacional, CUP. No foreign currencies are available in Cuban ATMs.
As of January 2021, there are so-called "dollar stores" or MLC stores (Moneda Libre Convertible) in Cuba that have been created during the Covid-19 pandemic.
In these stores, you can pay with credit cards only, not cash.
Be aware that American credit cards are not valid in either restaurants, shops, or ATMs.
Also Read: All About Currency In Cuba 2022 Explained
Tipping In Cuba
Tipping in Cuba, or giving propina as it is called in Cuban, is very welcomed.
It is not expected any particular quantity, like 10% of the bill, but you can tip what you feel the service or experience is worth to you.
Also, tipping in Cuba is quite normal everywhere, like in a store, or to a taxi driver, not just in a restaurant or café. So if you feel like giving a little extra to anyone who is serving you somewhere, please do!
Also read: Where To Stay In Havana? Best Hotels, Neighborhoods, And Areas 2022!
Where Should I Stay In Cuba?
You will find accommodation in Cuba in all thinkable locations, sizes, standards, and types.
It all depends on your preferred destination, budget, and/or what kind of experience or holiday you want.
If you want to live in a fancy big (or small) hotel and do not mind paying the bucks, that is easy, and there are many online providers where you can research and book your stay.
Large chains like the Iberostar have several hotels and resorts across Cuba.
Read my tips and advice for accommodation in Cuba, where to stay in Havana to give you some guidance.
Choosing large hotels and resorts as your accommodation will probably give you a great beach holiday, but it will distance you from getting to see and experience much about what the country and people have to offer.
Choosing to stay at a Casa Particular on the other hand may not provide you with the "hotel luxury", but will give you a more authentic feel of the Cuban culture and way of life.
Your hosts will assist and help you in any way they can, and probably give you great tips for local eating and exploring.
What Is A Casa Particular?
A casa particular is a privately owned home rented out by a Cuban family, where you can live like a Cuban, closer to the real Cuba!
Why Choose A Casa Particular?
If you don`t just want to hang poolside, but want a more authentic experience, this can be a good option for you.
You can book your Casa Particular either through Airbnb, Hostelworld, Expedia, or with travel agents specializing in Cuban travel.
Many Cubans advertise their houses and rooms on Hostelworld and Expedia, as they receive the payment directly from you instead of via the lengthy Airbnb channels.
There are also a lot of actual hostels in Cuba, that you also find on Hostelworld. If you are a younger traveler and/or on a budget (and like to be social), this might be perfect for you.
You can share accommodation, and the standard you get will be according to price.
By choosing this option, you probably will get to know like-minded travelers from all over the world, but not many Cubans if that is of relevance to you.
It will be sent straight home you your mailbox within days!
How Is The Food In Cuba?
The food in Cuba has a bad reputation, that really is no longer valid. You can get great food experiences in Cuba, both with local food and international courses.
The problem might be that a lot of foodstuffs are in short supply, and you can expect that restaurants and paladares (privately owned restaurants) often lack several of the items on the menus.
As a short-term traveler, you will be best off eating out at paladares (privately owned restaurants), or at your hotel restaurant.
If you are staying longer and need to cook on your own, ask your host or other available locals for advice on locations to go grocery shopping and for prices.
Eat Breakfast In-House When Possible!
Most casa particulares or apartment hosts with Airbnb will offer a very decent breakfast. This is a safe and very convenient service you might want to consider to start your day in the best way possible!
It is not recommended to drink water directly from the tap in Cuba. You can buy bottled water, but this may in periods be of short supply and difficult to find.
If so, you can boil water at your accommodation and keep it in bottles in your fridge to drink safely if that is available for you.
Or, buy a water bottle with a filter to bring with you!
You can buy fruits and vegetables in season from vendors in the streets, and if you wash it normally, this is a safe option for you. Other foods such as proteins; meats, fish, and eggs, are harder to get a hold of outside of restaurants and resorts.
You must also expect long queues for MLC shops and shops that sell any foods that are in short supply.
Is Cuba Safe For Tourists?
In general, Cuba is one of the safest countries in Latin America for tourists, and violent crimes against tourists are not very common.
There are severe penalties for Cubans committing crimes toward foreigners, as much of the country's revenue comes from tourism.
However, you should still be normally vigilant towards petty crimes such as pickpockets, etc, like in many other destinations.
You may want to make a copy of your passport to have in your purse (or photo on your phone), and leave your passport in a safe at your hotel or casa particular along with other valuables you want to keep safe.
Close your pockets and bags, and be aware when walking in crowded areas and streets – like you always would.
In case of theft, robbery, etc you need to immediately report this to the police.
This is important for your insurance claim later, but also if you lose your passport you probably need a copy of the police report to get issued a new passport or temporary travel document from your embassy or consulate.
Ask your hotel or your host for advice regarding the specific location you are visiting, to find out about "do`s and don`ts" you should be aware of!
The risk of terror attacks in Cuba is assessed as low.
No 1 Cuba Tips For Travel Is To Speak Some Spanish!
This really is my most precious Cuba tips for travel! Because in Cuba, most people only speak Spanish.
In the cities, you can find people that speak a little English. On rare occasions, you will meet someone who speaks well, but in general Spanish rules in Cuba.
This has a lot to do with the fact that all TV and most music and movies are in Spanish or dubbed into Spanish.
Most Cubans are not able to leave their country neither for holidays or work. This is mainly because very few make enough money to travel, and also because it is difficult for Cubans to get a tourist visa (or any visa) to a lot of countries.
The essence of this for you as a visitor to Cuba means that it is SUPER smart to know some Spanish when you come!
There are several ways to go about this, but at least downloading an app or translator is smart, or taking a course (in Cuba?!).
And you do not have to do it for your Cuban holiday, there are 450 million reasons in the world to learn Spanish either way!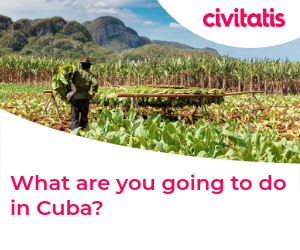 Fun Travel Tips Cuba
Dancing In Cuba
It would almost be a crime to visit any city in Cuba without letting yourself be swept off your feet on the dance floor at least once!
Multiple dance clubs exist for you to enjoy, and even if you plan to just go to "watch" – the guys there probably are of a different opinion. The argument that you don`t dance will not keep you off the floor, so you might as well just give in at once.
A lot of tour operators offer classes of salsa if you just would like to get a taste of what that feels like. You can book both before or during your stay.
You can learn several of the most popular dances in Cuba, including some classes of Lady Styling if you would like to give your elegance level a Latina Style crash course!
If you are more interested or serious about dancing, several good schools also give excellent classes.
Cuban Dancing Schools
Check out one of the best schools in Havana Casona del Son. This is a beautiful dance school with skilled Cuban teachers situated on one of the narrow streets in Havana Vieja.
Teachers are both female and male and teach both men, women, and couples in multiple dance styles.
If you have time, please read the un-filtered story of my first encounter with the Cuban Salsa Casino a few years ago, a SHOCK to the system! But I still dance, so it was a good kind of shock I guess. Now I even dance the bachata and kizomba as well and LOVE it.
Read more about dance styles here so you know what it looks like, and can imagine what it would feel like if that were you (smiley-face).
Restaurants And Bars
In the major cities in Cuba, you will find a number of very nice restaurants and bars. What you might expect though, is that there are always things missing from the menu.
This is simply because groceries are hard to come by in Cuba. Partly due to the sanctions, and partly due to internal issues with distribution.
In the smaller places, you will also find a variety of places to eat, but these might be family-run places, not a lot of gourmet restaurants. Not to say that the food might not be super-nice!
Throughout Havana and Cuba, there are a lot of bars, restaurants, clubs, hotels, or just little cafes behind small doors in the streets.
Read the guide to eating in Havana at the start of 2022 after the reopening of the country, and check out my best tips on Rooftop bars and restaurants in Havana!
Watersports In Cuba!
As Cuba is a Caribbean island, it goes without saying that there are miles and miles of beaches and white sand around the island!
Apart from lounging on a beach chair (or by the hotel pool with a mojito), you can opt for day trips with catamarans, go snorkeling, scuba diving, kite surfing, kayaking, deep sea fishing, and a lot more.
If you are staying in a larger hotel, they either have such services available or will help you book with a tour company or service provider.
NB! Protect Your Skin Against The Caribbean Sun!
SPF, SPF, SPF!
Anyone spending time in climates that can be tough on skin and hair knows the importance of taking care of both!
The Caribbean climate with the wonderful but merciless sun requires a little TCL and caring products to protect the skin from radiation, salt water, and humidity.
Number one on the list is of course SPF of at LEAST 30 (or even 50), but also moisture and serums help you keep your skin healthy.
Below is a list of what I currently use every day to protect my skin in this climate, at the age of 47 and counting!
DISCLAIMER: I am not a dermatologist, hence this is my advice based on my own user experience – not education or (my own) science!
Recommended Reading
In June 2022 I published my first travel guide on Cuba, after living in the country for a year and a half (and traveling here for more than three years).

Here I have gathered all the information I have on the different destinations in Cuba that you need, and clever tips and tricks I have picked up while "going native", that you don't get everywhere else!
It is called Cuba for travelers Explained, and is available on Amazon!
News and Web Pages
oncubanews.com (Spanish)
oncubanews.com (English)
www.granma.cu (not a secure page, visit the page address if you want to)
www.cubatoday.com (not a secure page, visit the page address if you want to)
Wrap-Up Cuba Tips For Travel 2022
As an ex-pat from Norway having lived in Havana for almost two years, I have done my best to give you my best Cuba tips for travel so you will have hassle-free holiday planning, journey, and a wonderful holiday.
If there is anything still missing or you need any specific advice on rules, destinations, or activities, please send me an e-mail!
I typically will answer within a day or two, as long as the wifi in my current home country is working!
Did You Find This Article Helpful? Pin It For Later!