ONE Salsa Casino Class | Salsa Lessons In Havana Cuba!
When I booked my first trip to Cuba (as part of a longer South America journey), it was possible to also book activities like salsa lessons in Havana Cuba after Spanish class.
At this stage, dancing was not even close to a priority for me.
In fact, I rolled my eyes, such a cliché, salsa dancing in Havana!? That is NOT something I am going to get myself into.
Just think! A naïve middle-aged lady swept around the floor by a Latino master of rhythm, oh no. Not this girl. I am going to keep my grace, no doubt. Or at least, that was the plan in 2019.
PS: At the end of this article, you can check out my salsa moves in 2023!!
Any link in this article may be an affiliate link! If you click through the affiliate link to do your shopping or booking, it may provide a small commission for me, at no extra cost to you!
Salsa at Casona Del Son In Havana
Situated in Calle (street) Empedrado # 411 between Calle Compostela and Calle Aguacate in Old Havana is a beautiful building with arty dance halls that is the home of Casona del Son dance school.
High ceilings and decorative tiles over two floors make the experience even more magical.
I have currently been going here for more than two years, taking classes in salsa, kizomba, and bachata, and I love it!
The entry area and the dance halls are buzzing with dance teachers, students, and music seven days a week offering classes in all the Latin and Afro-Cuban dances, lady styling, and more.
Courses And Classes At La Casona Del Son
In these dance halls, you can take group classes, or you can have a private class with one of the skilled teachers teaching you 1:1 on your preferred dance style.
Casona Del Son is also doing live classes on Facebook regularly now during the pandemic for men, women, and couples.
Contact them on Facebook or their home page to book lessons before you get here, or just drop by and book a class when you are in town!
Also read: The Magic Of Dance | Cuban Dance Styles
Cuban Salsa Style Havana – One Class Only!
My meeting with the Cuban salsa was reluctant, but then again, the conversion was instant!
The rest of my Spanish class is running off to salsa dance class every afternoon while I am spending quality time in my own company exploring Havana Vieja.
Eventually, after a few days of comments that I am missing out on, I reluctantly agree to go along. For ONE class of salsa only. You know, what could be the harm?
I enter the dance studio in my saggy summer dress and flip-flops, accompanied by an overbearing super-adult face.
I don't know what I expected, but there is hustle and bustle everywhere and a lot of activity and people.
Each student has his or her own teacher, it turns out. I have to admit it all seems very professional here at La Casona Del Son in the Old City of Havana!
An energetic guy with happy eyes, a reversed cap, and a curly ponytail comes over and informs me that he is Raudel and he is going to be my teacher.
Ok then!
The teacher does not waste any time, and before I know it I find myself in the rookie dance room in the middle of the basic steps before I have put my purse down or even prepared a little.
And suddenly, I am slightly dazed in the much-feared way-to-close position while Raudel takes the lead, looking at me intensely, counting steps, and asking, "Yes, do you understand"?
Also read: The Magic Kizomba Dance!
Dance Stars From The '80s
Somewhere in my cerebellum some of my old salsa moves obviously are stored still.
Although Raudel is yelling at me for not having spaghetti arms (quite the opposite of what my ballroom teacher said in the last century) and because I am standing too far away, I have to say it actually does not feel too bad!
I think maybe Raudel thinks I`m not completely hopeless because he enthusiastically says "very good," sparks with energy, and is sometimes very strict.
Shaking his head in mild despair over tense north European ladies who cannot relax and just follow his lead.
"I am the man," he says when I swirl off on my own initiative. I am clearly not used to being led anywhere.
He reminds me a lot of Leroy from Fame (or was it Flashdance?) – the huge stars for dreaming dancing teens in the 80s.
Also read: Travel resources | Best travel deals
A Salsa-Loving Senorita Is Born
I have capitulated completely; music is pounding through the whole room and I let myself be led around the floor and taking the regular reprimands without even the smallest objection.
I have no idea who I was trying to fool, but there really is no hint of nonchalant worldliness detectable in my body. I decided I might just as well embrace the cliché sooner rather than later.
The fact that I am a grown-up overbearing lady has completely slipped my mind, and anyway, who cares?
I had completely forgotten how much fun it is to dance! It was my passion way back before I finished high school, but since then, life has directed me to thousands of gyms instead.
I am sweating and completely in the zone, but flip-flops? What was I thinking?
Suddenly, class was over, and I was devastated – that was way too soon!
No time to lose, I ask Raudel to keep a space in his schedule and immediately start planning the quest for good dancing shoes in Havana.
No use for sweaty flip-flops; they definitely do not add spark to the salsa. And I could clearly see in the dance hall mirror it does absolutely not promote elegance. 
I think I just found, or maybe re-discovered, my passion!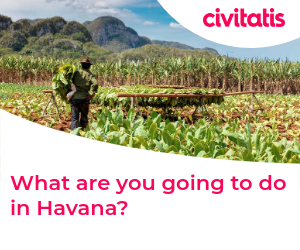 My Cuban Salsa Moves In 2023!
Since 2019 I have spent a LOT of time in Havana (and Cuba); I have even lived here for a couple of years!
Well, you can not LIVE in Cuba as a foreigner, but I spent up to 6 months at a time without having to leave the country.
Of course, I will go salsa dancing, which I have done. And even though I am not Cubana in blood and bones – here are my 2023 salsa moves with a Scandinavian twist!
Wrap-Up Salsa Lessons In Havana Cuba!
I hope you feel a little inspired right now!
Also, if dancing is your passion or on your bucket list, check out all the other dance styles you can meet in Cuba!
Especially magic is the Kizomba, a beautiful couple's dance that makes you flow!
You can try them all out in the capital of Cuba!