12 Mesmerizing Reasons To Visit Cuba In 2023!
Being a dedicated "Foreign Cubana" living in Havana, I have loads of hard-hitting reasons to visit Cuba this year if you need some help with the arguments!
As the world's most interesting and weird destinations can again welcome travelers, let me tell you all the other reasons why you should visit Cuba now!
This article contains affiliate links! If you make your bookings through these links, it may provide a small commission for me at no extra cost to you. As an Amazon Associate, I earn from qualifying purchases. Thank you!
12 Unbeatable Reasons To Visit Visit Cuba!
This intriguing island nation with a unique history, beautiful nature, interesting architecture, and gorgeous beaches is one of the most fascinating places on the planet.
Cuba has it if you like your travels to include history, art, nature, adventure, and beauty, as well as fiesta and chillaxing on the beach.
Here are my 12 absolutely best reasons why you need to get Cuba on your bucket list for 2023!
1. The Paradisiacal Beaches!
The first reason why you should visit Cuba is probably a no-brainer argument: the fact that all year long, the temperatures are flip-flop-friendly! 
You can grab your beach bag and tiny summer dress and be ready to go!
There are white paradisiacal beaches "everywhere" within a short distance – it is an island nation after all.
The best beach destinations are, no doubt, Varadero and the Cuban Keys, like Cayo Coco and Cayo Santa Maria.
But even outside Havana and the other cities, the road is short to white sands and soothing waves.
The summer months are the main high season for tourism in Cuba, coinciding with lots of summer holidays all over the world.
Also read: Divine Diving in Varadero Cuba 2023!
Be aware, though, that not only does summer mean crowds of tourists wanting to do the same things you do.
But the temperature from June through to August often exceeds 40 degrees Celsius, and the humidity is high.
Also, the period around Christmas, December through February is high season, although these are the chilliest months in Cuba.
So if you can, travel from April to June! You may have to endure some afternoon rain showers (and maybe the occasional storm), but if you don't mind that, you'll be great.
Or even from late August and for a couple of months, the temperature is still super nice and the crowds smaller.
A couple of free packing tips, bring light clothes, a water bottle with a filter, and a personal fan – or simply choose to take your Cuba holiday a bit off the high season!
2. Feel The Unique And Vibrant City Of Havana
Havana is quite simply an extraordinary city; there is no comparing this city to any other metropolis in the world. 
Around two million people live in Havana, which is both the capital and the biggest city in Cuba, a colonial town that celebrated its 500-year birthday in 2019.
The Havana you meet today is the result of a unique combination of events from three continents and four centuries.
The first 300 years as a Spanish colony were affected by the sugar trade route and slave trade between Africa and Europe.  
This is all visible in architecture, music, religion, art; you name it.
And then, since the turn of the last century, the two superpowers largely shaping Cuban matters have been first the US and then the former Soviet Union until the collapse in the early 90ies.
There are remnants of American influence from the first half of the 20th Century.
Also, the post-revolution Soviet presence can be seen everywhere, among other things, in architecture from the decades after 1959.
In many ways, Havana 2022 lives in six different decades at once, depending on what perspective you choose.  
3. Walk The 500-Year-Old Streets Of Old Havana
When Christopher Columbus first laid eyes on the main island of Cuba outside Holguin in October 1492.
Rumors have it he said it was "the most beautiful earth than human eyes had ever seen" (the bad English here is not mine).
True or not, inside the natural bay of Havana, is where they chose to build the power seat of the Spanish reign in the 1490ies.  
In the original part of the city, Old Havana, you can walk the narrow streets and see remnants everywhere.
From its long and quirky history in parks, squares, architecture, and, not least, the people.
When the Spanish arrived, there were about 100,000 indigenous people in Cuba.
Fifty years later, there were about 200 left.
The rest perished because they could not handle the diseases brought by the Europeans.
So, the population of Cuba today are descendants of immigrants from Europe and involuntary immigrants from Africa.
And a handful of ex-pats from the US and USSR here and there, and wannabees from the rest of the world, like me.
4. Experience The World Of Music In Cuba
The music in Cuba today, including all the dance, the instruments, and the performance, is a result of centuries of merging different cultures brought to Cuba.
Mostly from West Africa through naval trade and slavery, but also from Europe, mainly Spain, as well as France, and the US.
Cuban music is considered one of the richest and most influential regional music genres in the world and has attracted composers and musicians for centuries to study and create in Cuba.
Bits and pieces of Cuban music have, over time, contributed to the development of a variety of genres and musical styles all around the world, but mainly in the Caribbean region, West Africa, and Europe.
A troubadour on the Malecon right around sunset, Havana
For example, the Cuban son, the son Cubano, is a sound that merges the Spanish guitar, melody, and lyrical traditions with Afro-Cuban percussion and rhythms.
Other styles include rhumba, salsa, Afro-Cuban jazz, the Angolan kizomba, and re-adaptations of Afro-Cuban music.
Also, some Spanish fusion genres like flamenco have Cuban elements and a wide variety of styles throughout Latin America.
You can't walk far anywhere in Cuba without being subject to music, a band playing, or just someone playing music or singing somewhere.
Wherever in Cuba you are, there is always a Casa de la Musica you need to visit!
5. Explore A Whole City That Is A Colonial-Era Museum
Visit Trinidad, and you will see that the whole old city is practically an outdoor living museum where you can walk around to explore in the open air.
As the city was the first super-wealthy "sugar-Metropol" in Cuba for a while when the sugar trade peaked until Cuba was priced out of the market and other countries took over.
This caused an abrupt shutdown of the sugar industry in Cuba, and Trinidad was forgotten and became a quiet backwater even within Cuba.
When other cities modernized, Trinidad simply stayed the same.
This is why you can walk around in the cobble-stoned streets of the old city today, surrounded by the low colorful houses several centuries old.
You can see firsthand what a colonial-era city looked like, including the Valle de Los Ingenios, or Valley of the sugar mills.
A living museum of Cuban sugar production, it includes the sites of 75 former cane sugar mills, plantation houses, barracks, and other facilities related to this former industry.
Take a day on horseback riding outside Trinidad, try to extract sugar elixir from the canes, and make your own drink to enjoy with a cigar!
6. Natural Parks In Cuba
Cuba is home to several natural parks and protected natural reserves, some of which are even protected through the UNESCO World Heritage Site organization.
The Viñales Valley, for example, has a very special feature on the valley floor called mogotes.
Those are small "mountains" that sit on the valley floor like sugar tops, vegetated with green plants all around.
On the Varadero Peninsula is a small eco-reserve called Varahicacos Ecological Reserve, protecting the flora and fauna of this specific area of Cuba.
Outside of Trinidad, you can spend a day in the reserve Topes de Collantes, part of the Sierra de Escambray Range.
Here you find hiking trails, freshwater springs, underground rivers, waterfalls, natural pools, orchid gardens, and also cafes and restaurants.
Also read: Check out my best travel resource tips & advice for bookings of flights, accommodation & adventure
Caguanes National Park is an area on the northern shore of Cuba between Santa Clara and Camaguey. This eco reserve is known for its caves, murals, and also bats!
On the absolute western tip of Cubas's main island is the Guanahacabibes Peninsula National Park.
This is one of Cubas's largest protected natural areas and was declared a UNESCO World Biosphere in 1987.
The national park is home to a variety of habitats, including coral reefs, scrublands, mangroves, and evergreen forests, with more than 170 species of birds and dozens of reptile and mammal species.
Lastly, the Ciénaga de Zapata National Park in Matanzas province contains extensive and varied ecosystems.
These range from mangrove forests, seagrass beds, coral reef barriers, and deep reefs to the Cazones Gulf and an underwater canyon region.
Also read: Packing list for Cuba (or a Caribbean) holiday.
7. Find Out Firsthand How Cuban Cigars Are Made (And Rum) (And Buy Some)
In several regions of Cuba, there are lush fields and farmlands where the famous Cuban cigars are made, as well as Cuban rum.
You can see how this is done best in the northwest part of Cuba, in Pinar del Rio province, where you find the Viñales Valley, and further west, the town of San Luis.
You may also take day tours outside Trinidad and test cigars, sugar cane drinks, and the local rum as well.
The farmers of Cuba are obliged to sell a certain amount of their production to the Cuban state factories for export.
But parts of the harvest can be produced on-site and sold to people like you when you visit at a price set by the farmers.
8. Fantastic All-Inclusive Resorts Paradises | Varadero And The Keys
Even with all the culture, history, and fascinating architecture that I advocate you spend time on, let's not forget Cuba is still a Caribbean island!
The two best areas that are made for chillaxing in a paradisiacal environment are Varadero and the various Cuban Keys.
Here, you can lounge for a few days or a week in an all-inclusive resort and really go all-in on the pampering experience if you want!
The beach outside the Melia Paradisus Varadero Resort
Or you can stay in a Casa Particular in Varadero Town, which is also just a few meters away from the beach, as well as bars, cafes, and restaurants.
9. Learn About The Cuban – American History
Whether history normally is "your thing" or not when you travel, the intriguing modern history between Cuba and the USA is better than any thriller novel if you ask me.
What do they say, "You can't make this s**t up"?
After 300 years of colonial rule, the Spanish lost the Spanish-American war that secured freedom for Cuba in 1898 with a lot of help from the USA.
From 1898 to 1902, many things happened that would keep the most conservative conspiracy theorists pondering for decades. Negotiations, secret meetings, treaties, and whatnot.
Whatever really happened, the result was that the USA acquired the right to influence Cuba in all matters that mattered.
Like money and business.
And they did for the next 50 years or so, until the famous event when Fidel Castro and his comrades took power in Cuba from Batista on New Year's Eve in 1958, and the world changed.
I do recommend you take the time to experience these events from the other side of the perspective when you are here.
Visit the Museum of the Revolution in Havana and the Museum of the US invasion in 1961 of Playa Giron, for example.
It is an intriguing story, regardless of what your personal opinion is.
10. Find Out What Is Life Like In Cuba
When visiting Cuba in 2022, you have the opportunity to go beyond the facade if you choose.
The old classic cars, beaches, and luxury hotels are great, but so is learning what real life is like in Cuba today.
If you choose to stay in a Cuban Casa Particular, in Havana or anywhere else, you will see how the locals are dealing with everyday challenges in this secluded Caribbean paradise.
The pandemic, the sanctions, and the domestic reforms are all factors that will affect Cuban life in 2022.
You will also get to taste Cuban cuisine (yucca, ropa vieja, plantain, and more), eat in the paladares, practice your Spanish, AND you can practice your rum-drinking if you want to!
Elegantly handling Cuban rum cocktails takes a bit of practice, maybe more than once. Take it from me, and let's leave it at that!
If you also want to read about what it takes to live in Cuba now, you can read this article that I wrote for Spend Life Traveling a short while ago.
11. Take The Train Journey (Or Bus) From Havana To Santiago De Cuba
If you are a fan of slow travel and think of all parts of your journey as part of your experience, you definitely should consider taking the train from Havana to Santiago de Cuba.
That is a train journey that should take around 12 hours, but it may take more (things se rompe (break) in Cuba) – or it may not even get there at all!
It is not possible to get the train ticket online, so you are going to have to go to the train station, stand in line and bring all your papers with you for the bureaucratic process of buying a ticket.
It is going to take a while.
Once you have it, you can pack your bags, remember to bring drinks and meals and snacks and music (very few little shops anywhere), lean back, and enjoy your slow journey.
And leave it up to faith whatever happens next! Just remember to be at the station one hour prior to departure.
Also read: How to excel as a solo-traveler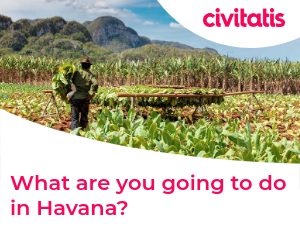 12. Feel The Unique Ambiance Of Cuba
Really, there is no other country similar to Cuba. The ambiance from the minute you exit the "arrivals" hall, you are going to feel it.
Of course, all countries have their unique traits, I know.
But Cuba, with its modern political history, current situation, and old history as a colony of Spain.
It is like the country is living in six different decades at the same time, with donkeys in the streets of Vinales, horses and carriages in Trinidad, and smartphones and 4G in Havana.
The geographic location in the middle of the Caribbean Sea and the conglomerate of weird series of more or less random events is something else.
You are going to want to experience Cuba.
Also read: Travel gadgets you will worship in 2022
Wrap-Up Good Reasons Why You Should Visit Cuba!
You may love it or hate Cuba (or not get it at all), but I am pretty confident you are not going to forget your visit very quickly.
This is why I am advocating for this to be on everyone's bucket list.
Let me quote my mother when she left: "This has truly been a journey of formation!". And it probably will be profound for you too!
Related blog posts:
All About How To Travel To Cuba From Canada 2023 & 3 Amazing Cuba Tours!
How To Travel To Cuba From US Hassle-Free (2023)!
How To Get A Tourist Card For Cuba 2023!